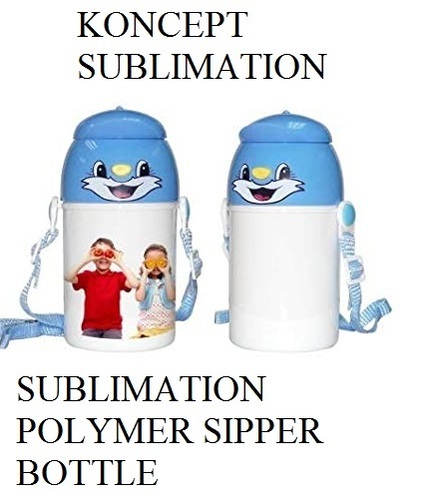 Sublimation Polymer Sipper Bottles
Product Description
Water Bottle for School going kids, Soft and Sturdy Straw is Gentle to Tender Gums. Perfect Return Gifts for Kids on their .
Strong plus beautiful is how your Polymer sipper bottle can look by personalizing it by your own choice.
Products We Deal In:
Flat Heat Press Machine 24*32, Lanyard Heat Press Machine25*100cm, 5 in 1 Heat Press Machine, 6 in 1 Heat Press Machine, 8 in 1 HeatPress Machine, 10 in 1 Heat Press Machine, ST3042 3D Sublimation VacuumMachine, ST420 Sublimation machine, ST210 Dual Mug Heat Press Machine, SingleMug Printing Machine, Epson L130 Sublimation Printer, Epson L805 SublimationPrinter, Epson L1800 Sublimation Inkjet Printer, Cotton Heat Transfer Paper,Dark T Shirt Transfer Paper, A4 Sublimation Paper, A3 Sublimation Paper,Sublimation Ink, T Shirt Heat Transfer Vinyl, T Shirt Heat Transfer Flock,Sublimation Tape (Heat Tape), Button Badge Machine, Blank Badge Row Material,Sublimation Blank Plain White Mugs, 2 Tone (inner Color) Mug, 3 Tone (Inner andHandle Color Mug), Couple (Lovers) Mug, Metallic Golden and Silver Mugs, HearShape and Heart Handle Mugs, Black, Red and Blue Patch Mugs, Animal Handle(Kids) Mugs, Ceramic Money Bank, Sublimation Beer Mugs, Sublimation CeramicPlates, Sublimation Aluminium Sipper Bottles, Thermocol Box for Mug Packing,Sublimation Ceramic Tiles, Sublimation Table Clocks, Wall Clocks, MDF Coasters,Acrylic Coasters, Photo Stands, Sublimation Rock Photo Frames (SH-01, SH-02,SH-01, SH-04, SH-05, SH-08, SH-11, SH-15, SH-19, SH-25, SH-38, SH-43),Sublimation Stones SH Series, Sublimation Glass Photo Frames and Clocks BLSeries BL-01
(BL-02, BL-03, BL-04, BL-16, BL-25, BL-31 BL-26, BL-27 BL-28BL-11, BL-14 ETC), Sublimation Card Board Puzzles, Sublimation MDF puzzles,Fridge Magnets, Sublimation Heart and Square Fur Cushions, Sublimation DesignerCushions, Satin Cushions, Velvet Cushions, Smiley Cushions, Magic MermaidSequin Cushions, Sublimation Polyester T Shirts, Polycotton T Shirts, PureCotton T Shirts, Rice Net T Shirts, Dryfit T Shirts, Black T Shirts, Mousepads, Table Mats, Mousepad roll, School Bags, Sublimation Trophies, Photo Lamp,Night Lamp, Rotating Pen Stand, Collages and Frames, Submeta Globulite MD PhotoFrames, Single and Double Side MDF Keychains, Glass Keychains, Metal Keychains,2D Mobile Covers, 3D Mobile Covers, Mobile Sticker Sheets, T Shirt PrintingMachine, Mobile Cover Printing Machine, Sublimation Polymer Mugs, SublimationPolymer Sipper Bottle,
Mug Printing Machine, Mug and T Shirt printing Machine, CapPrinting Machine, Sublimation Mouse Pad Printing Machine, Silhouette Portrait2Plotter, Silhouette Cameo 4 Plotter, Vinyl Cutting Plotter.
Contact Us
Plot No. 53, Gangapuram, Main Hapur Road,Near Shivalik Hospital, Opposite Bharat Petrol Pump,, Ghaziabad, Uttar Pradesh, 201001, India
Phone :+918037268385